Our exposure to per- and poly-fluoroalkyl substances (PFAS) is a major health concern due to their widespread occurrence and adverse health effects. Mounting evidence indicates that PFAS pollution, even at low levels, affects human development and reproductive functioning.
During the past decade, reference doses (RFDs) for PFAS have become more conservative (Table 1). On 25 May 2016, the United States (US) EPA released RfDs for perfluorooctane sulfonate (PFOS) and perfluorooctanoic acid (PFOA) of 20 ng/kg/day. Compared with the draft values (77 ng/kg/day for PFOS and 189 ng/kg/day for PFOA) suggested in 2009, the new RfDs were sharply reduced by a factor of 2 for PFOS and 8 for PFOA. Currently, most RfDs are based on animal rather than human evidence. Thus, two factors are crucial when deriving human RfDs:
the point of departure (PoD) (includes the procedure for estimating human equivalent dose from animal PoD)
quantifying uncertainty factors (UFs).
Selecting the points of departure
In particular, the animal PoDs that were adopted ranged from 0.00051–0.03300 mg/kg/day to 0.0053–0.3000 mg/kg/day for PFOS and PFOA, respectively, since various agencies selected different toxicity studies to base their PoDs on.
The US EPA used 11 candidate studies to base their recent RfDs on. Of these 11 studies:
1 study and 4 others focused on the PFOS hepatic effects and PFOS developmental effects, respectively
1, 4 and 1 studies reported on the hepatic toxicity, developmental toxicity and immunotoxicity for PFOA, respectively.
This indicates that the RfD/PoD selection was heavily weighted for developmental effects. Candidate studies are largely selected based on the availability of toxicokinetic (TK) data rather than the toxicity study itself, and evidence is suggesting that using different critical endpoints may result in lower RfDs. The rationale of the current selection strategy should be redesigned, by incorporating the merits of toxicity studies (such as toxicological endpoints, duration and species). Meanwhile, some scientists noted that the parameters used in the adopted TK model to quantify UFs are not biologically plausible, and it did not consider gestation and lactation exposures.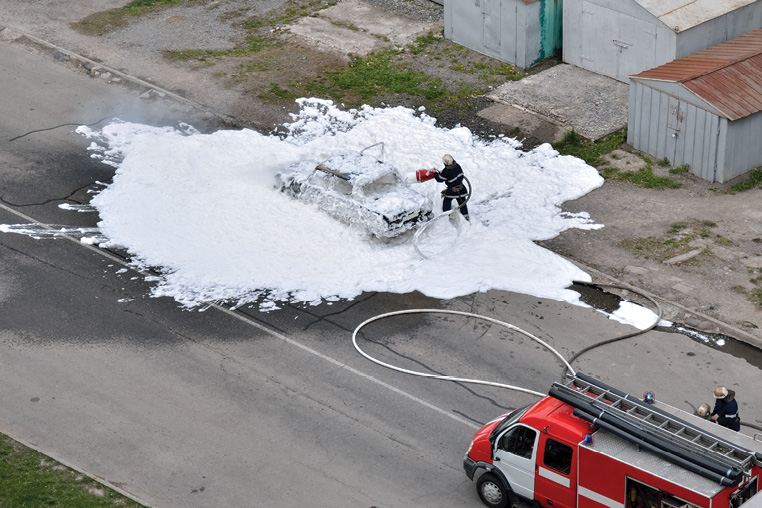 PFOS and PFOA in firefighting foams have contaminated numerous sites in Australia and other countries
Quantifying the uncertainty factors
Although the consensus has been to apply a default UF of 10 for intraspecies and 3 for inter-toxicodynamics, quantifying the inter-toxicokinetics difference and exposure duration difference has been more variable, and is based on evolving TK models. For example, using the first-order model as the TK model, the US EPA has determined an inter-toxicokinetics difference of 13 from monkeys to humans. The Danish EPA also used the method to designate a PFOS inter-toxicokinetics difference of 41 from rats to humans.
Recently, with the development of compartment models, an approach termed human-equivalent dose (HED) was used to integrate the inter-toxicokinetics difference and exposure duration difference. Using the HED approach, the Danish EPA estimated the total of inter-toxicokinetics difference and exposure duration difference for PFOA to be 133.
Epidemiological studies to guide reference doses
In 2016, the German Human Biomonitoring I (HBM I) values of PFOA and PFOS in human serum were published by the German Federal Environment Agency (UBA). The safety thresholds have been set at 5 ng/mL for PFOS and 2 ng/mL for PFOA. These HBM I values are based on epidemiological studies. The HBM Commission concluded that exposure to PFOA and PFOS was adversely associated with:
fertility and pregnancy
newborn birth weight
lipid metabolism
immunity after vaccination
hormonal development
thyroid metabolism
onset of menopause.
In addition, the HBM Commission suggested that these effects were 'well proven' and 'relevant'. Until now, only these 2 guidelines were extrapolated based on human evidence, whereas all other RfDs were obtained by using animal studies.
The 5 ng PFOS/mL and 2 ng PFOA/mL in human serum are equivalent to RfDs of 0.4 ng PFOS/kg/day and 0.28 ng PFOA/kg/day. Compared with the US EPA–derived RfDs of 20 ng PFOS/kg/day and 20 ng PFOA/kg/day, the two HBM I values are approximately 50–70 times lower. Such a huge difference in RfDs indicates there may be an overestimation bias when using the animal data, which brings into question our choice of the data source for RfD determination.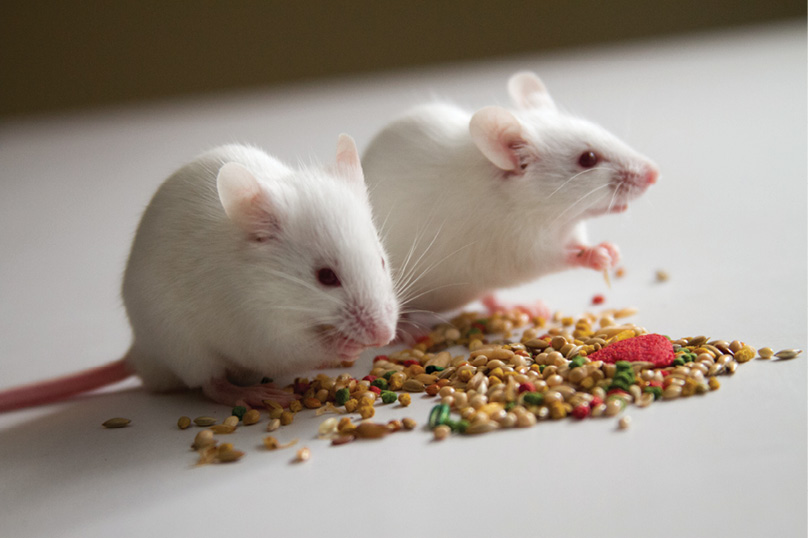 Animal studies have helped researchers determine reference doses for PFAS
Limitations of using human data to derive reference doses
An advantage of using human data is that the quantification of interspecies UF is avoided, as is the issue of relevance between human and animal response. However, using human data to extrapolate the health advisories is controversial, since the arguments on a consistent causality between PFOS/PFOA exposure and adverse effects in humans are ongoing.
Some adverse effects observed in humans (eg immunotoxicity) are consistent with those seen in animals, whereas some effects, such as the neurobehavioural developmental effects (possibly mediated via disturbance of thyroid hormone functions) are not. Most findings based on human data come from cross-sectional studies, which are limited in their ability to establish cause. Some other studies are also limited by sample size and reliance on mortality data. Thus, data from human studies are still not strong enough to be used as the primary basis for risk assessment.
Reviewing data from different studies may overcome some of the inherent uncertainties in using human studies. For example, a systematic review illustrated evidence for the correlation between PFOA exposure and increased serum cholesterol and uric acid, and decreased fetal growth. Another example is a systematic review of 33 human studies, recently undertaken by the National Toxicology Program (NTP). The NTP concluded that a moderate level of evidence supports the idea that PFOS/PFOA suppress the antibody response.
Considering the advantages of using human data to determine RfDs, CRC CARE is attempting to use advanced statistical techniques to analyse data. For example, data from the US-based National Health and Nutrition Examination Survey provide an avenue to clarify the association between PFAS exposure and adverse effects. Such efforts will narrow the uncertainties in RfD determination and underpin knowledge on PFAS toxicity.
Table 1 Development of proposed reference doses for PFOS and PFOA
Chemical
Organisation
Species, duration
Endpoint
Tolerable daily intake or reference dose (ng/kg/day)
PoD (mg/kg/day)
UF
UF1
UF2
UF3
UF4

PFOS

UK COT

Cynomolgus monkeys, 
26 weeks

Decreased serum t3 levels

300

NOAEL, 0.03

10

10

na

na

PFOS

EFSA

Cynomolgus monkeys, 
26 weeks

Decreased serum t3 levels

150

NOAEL, 0.03

10

10

2

na

PFOS

US EPA

Cynomolgus monkeys, 
26 weeks

Decreased serum t3 levels

77a

NOAEL, 0.03

39b

10

na

na

PFOS

Danish EPA

Rats, 104 weeks

Liver hypertrophy

30a

BMDL10, 0.033

123c

10

na

na

PFOS

US EPA

Rats, 12 weeks

Pup body weight

20a

HED, 0.00051

3

10

na

na

PFOA

UK COT

Male rats, 
13 weeks

Hepatic effects

3000

BMDL10, 0.3

10

10

na

na

PFOA

EFSA

Male rats, 
13 weeks

Hepatic effects

1500

BMDL10, 0.3

10

10

2

na

PFOA

US EPA

Mice, 17 days

Hepatic effects

189a

BMDL10, 0.46

243d

10

na

na

PFOA

Danish EPA

Male rats, 
13 weeks

Hepatic effects

100

HED, 0.003

3

10

na

na

PFOA

US EPA

Mice, 17 days

Decreased pup ossification, accelerated male puberty

20

HED, 0.0053

3

10

na

10e
BMDL10 = 95% lower confidence limit of benchmark dose at benchmark response of 10%; EFSA = European Food Safety Authority; HED = human equivalent dose; na = not applicable; NOAEL = no observed adverse effect level; PFOA = perfluorooctanoic acid; PFOS = perfluorooctane sulfonate; PoD = point of departure; UF = uncertainty factor; UF1 = interspecies uncertainty factor; UF2 = intraspecies uncertainty factor; UF3 = uncertainty factor to account for studies with less than lifetime exposure; UF4 = other uncertainty factor; UK COT = United Kingdom Committee on Toxicity 
a Calculated as PoDs/UF1/UF2/UF3/UF4 
b 3 (toxicodynamics differences) × 13 (toxicokinetics differences) 
c 3 (toxicodynamics differences) × 41 (toxicokinetics differences) 
d 3 (toxicodynamics differences) × 81 (toxicokinetics differences) 
e Lowest observed adverse effect level to NOAEL UF