As CRC CARE moves into the 6th year of its 2nd funding cycle, its 'Minimising uncertainty in risk assessment' program saw completion of 8 projects, including 3 carryover projects from its first funding cycle. Currently, 4 projects are ongoing, with most likely to be completed in the next 1–2 years.
Table 1 outlines the projects and some of their highlights. CRC CARE recognises that collaboration and interaction are key to its quality outputs. Most of the projects in the risk assessment program involved multiple CRC CARE research providers and partners.
CRC CARE I and II project achievements
Status
Projects
Completed projects

Development of an in situ, in vitro cell system for real-time measurement of toxicological effects of organic mixtures in the air and groundwater
Development of a unicellular tool for toxicity assessment of individual, and a mixture of, metals and metalloids
Adsorbed chemical species on inhalable iron-rich particles. In vitro toxicology of respirable iron-rich particles relevant to mining industry: a high throughput framework for interpreting environmental particulate matter toxicity (PhD thesis)
Assessing the risk to human health and the environment from mixed contamination
Environmental risk assessment of nanomaterials for soil and groundwater remediation
Data collection to support Port Hedland health risk assessment guidelines
Development of Australian Petroleum Vapour Intrusion (PVI) Guidance
Arsenic bioavailability, biomagnification, detoxification in aquatic systems and ecotoxicological validation

Ongoing projects

Risk compliance modelling
Mineralogical constraints associated with contaminant bioaccessibility in mine and smelter impacted soils
Create database of speciation, toxicity and bioavailability for prioritised contaminant
Mobility and bioavailability of arsenic and cadmium in biochar-amended paddy soils
Flagship project on mixed contamination risk assessment
The flagship project on mixed contamination risk assessment involved researchers from the University of South Australia (UniSA; now at the University of Newcastle) and the University of Queensland (UQ). CRC CARE partners, including the environmental protection agencies, consulting companies and external industry professionals, are helping with suitable site identification to provide samples to the project.
This project has also established a new collaborator in China, the Shandong Academy of Occupational Health and Occupational Medicine (SAOHOM), where additional in vivo research is being conducted. The in vivo component is not funded by CRC CARE, but the work will complement the in vitro research that is being done by CARE researchers in Australia. So far, 3 PhD students in the project have graduated, and another has nearly completed their studies. One of the mixture toxicology papers published by the UQ team in Toxicology Research in 2016 was selected as one of the top 30 most downloaded articles published in the journal that year.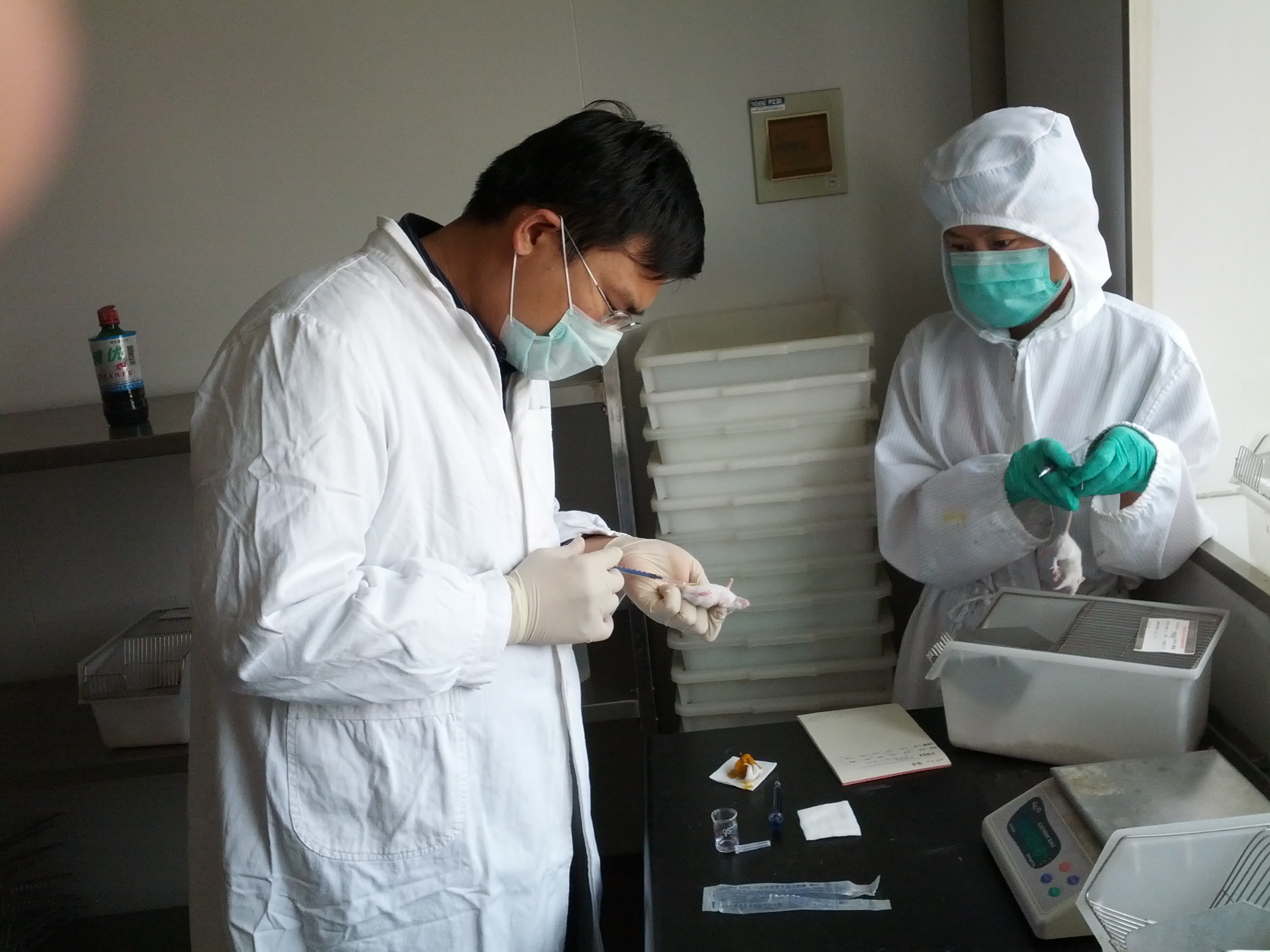 Dr Cheng Peng at the Shandong Academy of Occupational Health and Occupational Medicine conducting an in vivo experiment to study DNA damage in mice exposed to mixed contamination of polyaromatic hydrocarbons and metals
Dr Cheng Peng has been appointed as an Adjunct Professor at SAOHOM. In 2016, Dr Peng was also awarded a 3-year Senior Research Fellowship from Tsung Cho Chang Education Foundation, and is currently working with Prof Jack Ng. Dr Sasikumar Muthusamy (former PhD student) was awarded the best student paper by the Australasian College of Toxicology and Risk Assessment in 2013. He was successfully recertified as a Diplomate of the American Board of Toxicology in 2016. (Prof Jack Ng was recertified in 2015.) Mr Vincent Lal (current PhD student) won a Greg Urwin Award under the Pacific Leadership Program in 2017.

Micronucleus assay to assess chemical-induced DNA damage: normal cells are shown at top, red arrows indicate cells with a micronucleus
Port Hedland dust project
Scientists from Chemistry Centre Western Australia worked closely with collaborators from the Western Australia (WA) Department of Environment Regulation on the Port Hedland dust project. Other interested parties included the WA Department of Health (DoH), the local community and industry. The research findings provided the basis of a source apportionment model for inputting data into the Port Hedland health risk assessment. A health risk assessment report commissioned by WA DoH was completed in 2016. Toxicity data obtained from another project were also used to support the Port Hedland Interim Air Quality guideline in a recent review report prepared by Prof Jack Ng for the town of Port Hedland in March 2017.
Other projects
The compliance model project is led by Professor Ravi Naidu. The project team receives advisory input from senior university researchers at the University of Queensland and from the United Kingdom, and from regulatory agencies. This ensures rapid adoption of the project outcome in the future.
The nanoparticle project has seen extensive collaborative effort between UniSA and the University of Technology Sydney (UTS), and key players in Europe. Project leader Dr Erica Donner was awarded an Australian Research Council Future Fellowship.
Another productive project in terms of new knowledge gained is the arsenic project, led by UTS in collaboration with UniSA. In particular, the paper on arsenic in Australian rice has drawn media attention and public awareness.
For more about the CRC CARE's risk assessment program, contact Program Leader Professor Jack Ng, University of Queensland.
EMAIL j.ng@uq.edu.au